A spiritual journey into the ecological heart of our planet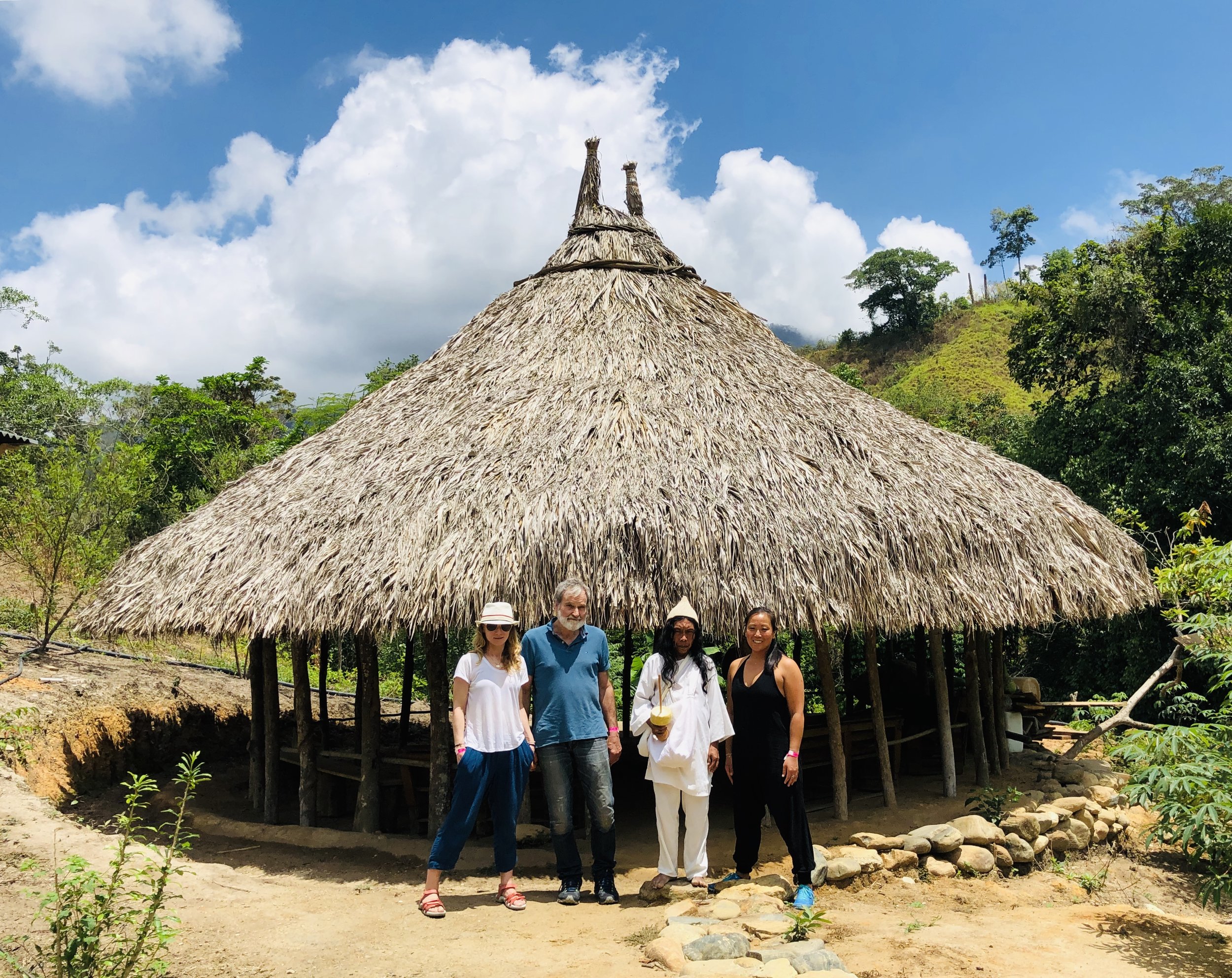 Sierra Nevada de Santa Marta, Colombia
April 6 - 11, 2020
Gitana del Mar Boutique Resort
Double Occupancy: $1,790 (Private bath)

Single Occupancy: $2,390 (Private bath, deluxe bungalow. SOLD OUT)

Budget Occupancy: $1,490 (Shared bath. Double occupancy. Accommodation is in Glamping Tents. SOLD OUT)
5 nights accommodations in eco style jungle bungalows. The sound of the ocean & the sound of the jungle.

3 gourmet meals a day - breakfast/lunch/dinner. Chef can accommodate any dietary restriction or style. All food is locally sourced in support of regional ecology & sustainable practices.

6 custom sequenced yoga classes in a variety of styles - Vinyasa, Restorative, Slow Flow, Yin. All yoga props & mats. Yoga classes are held in a covered, beach Yoga Shala.

2 guided excursions:

Half Day Ecological Immersion - Jungle hike to Sacred Lagoon & Waterfalls @ Mandiwaka River. This is a chance to visit a powerful, energetic place for the indigenous Kogi people, who have been using it for over a thousand years. Due to a number of raw natural elements converging here, the Kogi consider this spot to be a portal into the higher realm.

Full Day + Overnight Indigenous Cultural Immersion @ Wiwa Village - This is a once in a lifetime opportunity. We will be leaving the modern world behind, and heading up the Sierra Nevada mountains into the Kogi territory. The Kogi people have been living here since before the time of conquistadors. They are an incredibly different, sophisticated and spiritual people, whose intimate understanding of our planet's ecology led them to finally make contact with the outside world. BBC produced two documentary films (A Message from the Heart of the World 1990 & Aluna 2010) based on the Kogi Mamas' (spiritual leaders) message to our world regarding ecological destruction. A few years ago, the Dalai Lama visited Wiwa village heeding their concern. We will have opportunity to meet with a Kogi Mama, hear his message to us, and participate in a fire cleansing ceremony. This experience may be profound, deeply moving and intensely transformative. There is an option to return to the resort instead of staying overnight.

Roundtrip airport transfers from Santa Marta airport on days of arrival & departure. Drive from the airport is 1.5 hrs.

Free range of beach & jungle property as we will be renting it out exclusively for our use! Private, primordial stretch of beach has plenty of shaded beach beds & hammocks. Jungle garden has a warm, salt water pool with poolside bar. There is also an outdoor jungle library and a beach wigwam for reading/relaxing/contemplating.

Wifi on site.
International airfare

Alcoholic beverages & extra snacks

Spa, Ayurvedic & massage services

Transfers from Cartagena or Barranquilla airports. Drive from Cartagena is 5 hours. Drive from Barranquilla is 2.5 hours

Incidentals & tips

Horseback riding & additional activities
Cash - You will need to change money in order to pay for things. The suggested amount is about $200. The resort can also charge to your room but a 5% credit card fee will apply.

A small journal to record your experience.

Yoga - clothes for practice. You don't need to bring a mat.

Beach - bathing suit, flip flops, high SPF sunblock, sunglasses. We are close to the equator, the sun is strong.

Jungle - mosquito repellent and after-bite ointment. There are A LOT of mosquitos at night. Loose long sleeved pants a plus for the evenings.

Mountains:

sturdy hiking boots or hiking sandals (like Tevas). Hiking in regular sneakers, through muddy and slippery trails may be difficult

small backpack for essentials

water bottle
Payment accepted via Venmo, PayPal or Check

$450 Non Refundable Deposit @ registration to guarantee your spot

February 1, 2020 - Full payment is due minus deposit

February 1, 2020 - Liability waiver is due

CANCELLATION/REFUND POLICY:

$450 initial deposit is non-refundable

If participant cancels within 60 days of retreat start, 50% will be refunded minus deposit

If participant cancels within 30 days of retreat start, no refund will be issued
*Please note that a $450 non refundable deposit is required to hold your spot. Payment can be made via Venmo, PayPal or Check.
Best way to fly?
Avianca is a very comfortable and reasonably priced Colombian airline with direct overnight flights from Boston to Bogota. I was pleasantly surprised by their service and aircraft. Your final destination is Santa Marta airport (SMR). This flight has a short layover in Bogota. Flight from Bogota to Santa Marta is 1 hour.
Difficulty of the hikes?
We will be hiking the jungle. The hikes are moderate in difficulty, with occasional rocks, steep grade muddy hills and slippery areas. You need hiking boots with grippy soles or supportive sandals like Tevas.
How much yoga will we do?
We have six planned yoga classes of varying levels and styles. You do not need to be a 'yogi' to participate and of course classes are optional. I have a lot of experience teaching beginners, so I am happy to help anyone modify their practice to make it most effective. Morning practice will be a more vigorous vinyasa flow with opportunity for advanced postures. Evening practice will incorporate slow flow/yin/restorative styles to downshift the nervous system for bedtime.
i am intrigued by the kogi people. can i learn more before I go?
The Kogi people have lived in complete isolation from the modern world for over a thousand years. Most of what we know about their ways is because they chose to make contact in 1990, resulting in a production of BBC documentary From the Heart of the World by Alan Ereira. When their warning message about the ecological destruction of our planet wasn't heeded, they called Alan back to make a subsequent film Aluna.
Read this article in the Guardian that summarizes the films' messages

Watch the BBC documentary Aluna produced 20 years after the original documentary

Read this excerpt from a book The Mechanism Demands a Mysticism: An Exploration of Spirit, Matter and Physics, by Thomas Brophy, PhD.

Reach out to me for conversation and questions
is colombia a safe country?
Colombia is a country with a population of 49.9MM. Some parts are safe and some are not. We are traveling to a part that is generally considered safe. Currently Colombia and Mexico share the same US Dept of State Travel Advisory of Level 2. All transfers & tours are arranged , so you will not be left to your own devices.
is this a vegetarian resort?
No. Fresh, locally sourced meats and fish are served daily in fusion style cooking. The resident chef will make custom accommodation based on your diet restrictions and style. You will need to let me know in advance so that we can pass this information on to the kitchen.
what exactly is an eco style bungalow?
Eco style means that the bungalow is open to the elements. It uses fans for airflow and nets to prevent nature from coming in. It does not have AC. Only single occupancy bungalows have heated water. All bungalows have electricity and electric plugs to charge your phone. All bungalows have safes for your valuables.
do i need vaccinations?
No additional vaccinations are needed. It would be prudent to travel with a small First Aid kit just in case. If you are still concerned, check with your doctor.
i don't want to stay at the indigenous village overnight. is there an option to go back?
Yes, there can be transport provided to go back to the resort. Staying overnight is optional. You can decide the day of the excursion, and let your retreat leader know, so that arrangements can be made. Your participation is entirely optional in any and all activities, including yoga and excursions. It is important that you feel safe, and that you are able to make your own choices.
Do i need a visa?
No. US Passport holders do not require a Visa to enter Colombia. Check your passport's expiration date to make sure it's current.
Our search for connection does not have to end with an empty space in our hearts.